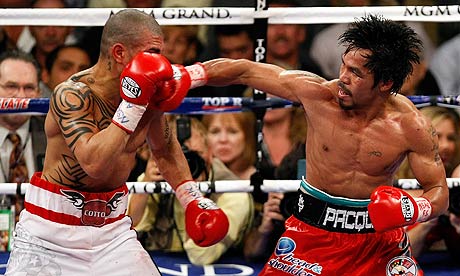 If you are a boxing fan like myself, you were a part of the buzz of the weekend. My phone was ringing non-stop with fight party invites and folks inquiring as to where I'm watching the fight for that night. It seemed as if everyone was either preparing their home for a fight party or, like me, trying to find a venue to catch the fight.
                This Saturday the fight of the night was Manny Pacquio v. Miguel Cotto. The match was held at the well respected MGM Grand Garden Arena. I went to at least three different spots before I finally found one that still had seats available. I settled myself down with my date at a tall table and chair set for two @ Squadz.
                Squadz is a sports bar and restaurant in Brooklyn.  Every other venue was at standing capacity and this was before the fight even started. The energy and anticipation could be felt from the door of every bar and restaurant we tried before reaching Squads.
Once seated we ordered our first round of drinks.  But it seemed like everyone else was on their 3rd or 4th round.  We made it in the nick of time and were satisfied with our final choice to watch the event. Each fighter came out to their theme music and made their way to the ring with their entourage behind them. Both countries' anthems were sung beautifully along with the United States National Anthem. Their stats were read, gloves were tapped, bell rung and the fight began! As they danced around the ring and beat on each other the waitress brought out the second round and without me realizing the place was suddenly packed to capacity.
               The vibe was crazy! It almost felt like we were in someone's living room amongst family and friends. You had some yelling and screaming for Cotto but there were definitely more rooting for Pacquio. With round after round of fighting and drinks, the excitement in the building grew. One thing I did notice was as Pacquio beat Cottos face into a hamburger patty the Cotto fans got quieter and watched with a bit more intensity. The fight ended with Pacquio winning the world boxing Organization Welter weight  title in the 12th round with a TKO. Some like myself were shocked he beat a bigger and stronger man. Don't sleep on the little people! It was hands down, an electrifying  boxing performance. Drinks, good food, great company, and an anticipated live fight on a Saturday night. I had a great night out in my town. I love you Brooklyn.
~ Ms. V